A full service internet marketing agency
We offer an all-inclusive solution so you can feel confident you're not missing anything that keeps you from being successful online.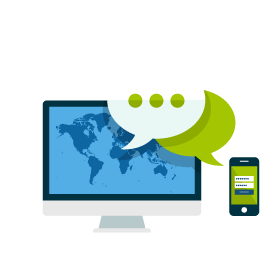 Internet marketing solutions for business owners
who want results without all the headaches.
Who we are
Web Market Pros is a full service Internet marketing agency creating winning solutions for businesses and professionals who want to improve their presence online and increase business.
What we do
We offer our clients a full range of Internet marketing services such as search engine optimization (SEO), search engine marketing (SEM), pay per click (PPC), social media marketing (SMM), conversion optimization, email marketing, marketing analytics, and much more.
Who leads us
Our management team brings many years of experience to the table and are continuously updating their knowledge in the ever-evolving world of Internet marketing.
What we value
Our company extends great efforts to deliver sustainable results for all of our clients. We know business owners work hard to achieve success in this highly competitive business environment and we want to be a part of their success team.
What we value most: Our customers. "Web Market Pros is a fantastic company to work with. They are increadibly knowledgeable. Unlike other companies I have worked with, they take the time to explain there processes and I feel very confident in their work." "Web Market Pros does SEO for us and they surpassed our expectation in a fraction of the time we were quoted by other SEO companies. We will definitely continue to use Web Market Pro's services. The prices are very competitive as well." "These guys Rock! I've been looking for someone to do SEO services for a while, and I keep getting the well you know there is no guarantee SEO. These guys came in and said we guarantee results, gave me a 3-6 month time frame, and I actually saw results in 2-Months. They also went above and beyond the call of SEO to help me."
O U R V I S I O N
We eliminate the internet marketing headache
so you can spend more time running your business.