Testimonials
We are very proud of what we are able to accomplish for our clients and here are what "real" clients have to say about us.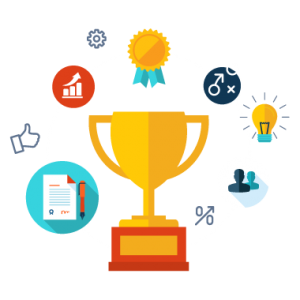 "Web Market Pros is a fantastic company to work with. They are increadibly knowledgeable. Unlike other companies I have worked with, they take the time to explain there processes and I feel very confident in their work." "Web Market Pros does SEO for us and they surpassed our expectation in a fraction of the time we were quoted by other SEO companies. We will definitely continue to use Web Market Pro's services. The prices are very competitive as well." "These guys Rock! I've been looking for someone to do SEO services for a while, and I keep getting the well you know there is no guarantee SEO. These guys came in and said we guarantee results, gave me a 3-6 month time frame, and I actually saw results in 2-Months. They also went above and beyond the call of SEO to help me." Web Market Pros did a great job of listening and tailoring the SEO plan to our situation. Great wealth of knowledge and implementing the suggestions was easy to do. Great Audit! Accurate and down to the nitty gritty detail! Will be using again for sure. Patrick Harrelson
President
Great work. Have used others and they are the best yet and give much more information. Will continue using them. Great SEO work! Great people to work with, they always offer us more insight whenever we ask questions. Pricing is also great and we appreciate their flexibility, hope to keep a long term relationship with these guys! Very good company, I plan on using them for along time. Great progress over the course of our work together. They provide great tracking and insight. Would recommend to anyone who is looking to improve rankings! Great job on project. A dedicated team that delivered high quality SEO services. Marcus Kirshner
President
Great. Quick work. Look forward to seeing continued improvements in our rankings. Great work so far. looking forward to more great results. WebMarketPros went beyond what I expected and over delivered. Very rare now a days. Very skilled and up to date with what works with SEO. I'll return again for sure. Big Thanks So glad I found WebMarketPros. Excellent service! Allison Westlake
President
Excellent results and great to work with. Will continue to work with them. Recommended! Extremely pleased with the company's performance. Excellent work. Real SEO results. No doubt that they know what they are doing. I will rehire again to help improve my SERPs. Thank you webmarket pros! I must say, working with Web Market Pro's was an experience not to pass up on. In my business, customer service is of the first priority (even before morning coffee, and trust me i need my coffee). The work they have done has been outstanding and very accountable. Thanks guys! I highly recommend Web Market Pros for anyone needing SEO projects completed. Their efforts have paid off and have helped my websites be more successful. Excellent work and results. Highly recommended! Very helpful and knowledgeable when it came to customized on-site optimization. Excellent work - very insightful and knowledgeable, and helped our ranking tremendously! The rankings keep improving and of course I wish we were higher than we currently are but that may not be realistic only 4-5 months in it....so I have only positives to say at this point. I just wish I could interact with them more to continuously learn and improve upon things. They deserve great credit thus far, but they know we still have lots of unfinished business. Web Market Pros knows what they are doing. I never thought I would be on page 1 for my high search term keyword in 3 months. Great job guys and thanks for being patient with me. Provided back linking to enhance our search rankings. Also provides a nice reporting system to see how your rankings are progressing. The relationship has been very professional. While working with them they have introduced new a new reporting system that gives clear information that can be accessed on a daily basis Brenda Holbrook
President
Very helpful and responsive. Nothing but good things to say. We are still working together and I have no complaints. Web Market Pros was very professional and delivered on what they promised. They know the tricky world of PPC better then anyone I've worked with. O U R V I S I O N
We eliminate the internet marketing headache
so you can spend more time running your business.